---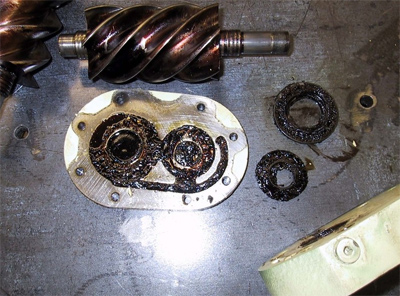 Advanced Bio-32 a direct cross of the Sullair Sullube 32. Never varnishes and cleans older screw compressors that were previously on hydrocarbons or synthetic hydrocarbons.

Advanced HT-46 High quailty, high temp PAO synthetic hydrocarbon.

Advanced 8000 High quality to keep your reciproating compressor clean from carbon for 8,000 hours.

Advanced Compressor Clean to flush out varnished compressors and or when changing out to Advanced Bio-32

Below are two examples of compressor varnish.
Unit varnished to the point when the oil cooled it seized the compressor.
No external indication of failure except for higher then normal running temperatures
Use Advanced Compressors oils to maintain compressor health and keep your plant running trouble-free.